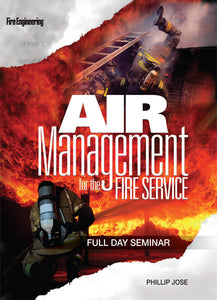 Fire Engineering Books & Videos
Fire Engineering Books: Air Management for the Fire Service - Full Day Seminar
Regular price
$ 160.00
$ 0.00
Chief Phil Jose—who along with his fellow '"Seattle Guys"' literally wrote the book on Air Management for the Fire Service—presents his all-day air management class. This five-hour video consists of three classroom sessions coupled with three hands-on rotations to instill the importance of proper air management, which is now mandated in NFPA 1404.
Air management is a basic skill requirement on the fireground. Through examples and case studies, viewers will gain an understanding of the value of air management and learn how to perform air management effectively on the fireground.
Give you and your fellow firefighters the margin of safety they deserve and that is required by NFPA 1404.
5 hrs./2-Disk set/April 2014
---
Share this Product
---
More from this collection