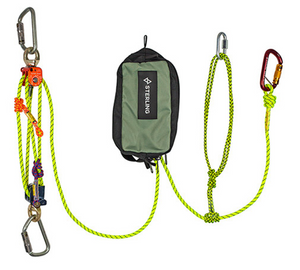 Sterling Rope
AZTEK Elite NFPA-G System
Regular price
$ 629.99
$ 0.00
Details
A unique, multi-functional system, the AZTEK is a simple and versatile tool for mechanical advantage rigging. The system has numerous uses, including as an adjustable high directional for a belay line, pickoffs and aerial rescue, for litter scoop rigging and attendant tether, among others. The opposite end of the rope functions as an individual edge restraint system utilizing the included travel restraint and screwlink. The AZTEK Omni Block pulleys keep loads oriented correctly when tensioned. The system is easily transported or swapped between users thanks to its accessible pouch-style carry case.
Sterling offers four AZTEK Elite Systems:
AZTEK Elite: 2 aluminum SafeD carabiners lighten the system for mountain rescue applications with an end-to-end strength of 6,295 lbs.
AZTEK Elite Arbor: 2 Falcon with Talon AL carabiners and does not have the edge restraint and screwlink.
AZTEK Elite NFPA-G: 2 Sterling Steel autolock carabiners offer high strength and G-rated certification and end-to-end strength over 8,000 lb.
AZTEK Elite Tactical: 2 black aluminum Hawk autolock carabiners match up with the black pulleys and sewn cord for military and SWAT operators.
Aztek Elite
Weight (lb)         
3.8        
MBS Rating (lb)
6,295   
System Contents
(2) AZTEK Omni Block pulleys
50' of 8 mm Edge Restraint with sewn eye
(2) 6 mm sewn ratchet prusiks
(3) SafeD carabiners for connecting Edge Restraints to anchor
8 mm Steel Screwlink
6 mm Travel Restraint
AZTEK Carrying Bag
---
Share this Product
---
More from this collection